Shopping Cart
Your Cart is Empty
There was an error with PayPal
Click here to try again
Thank you for your business!
You should be receiving an order confirmation from Paypal shortly.
Exit Shopping Cart
We Build the Best & Fix the Rest
The roofing on older homes can encounter many problems. I will explain what the faulty nature of this roof is, what the problems this damage will present the homeowner with and what can be done to bring the roof current and in good repair. In the photo below, you can see that there are broken tiles and where the tiles and the exterior wall of the house meet there are important pieces of the roof installation missing. This roof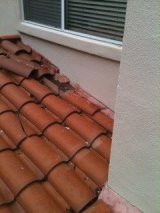 is missing pan metal and z-bar flashing which channel the water off of the roof correctly. Since these installation items are missing this home owner is encountering ceiling and wall damage on the interior of the home because the water is not being channeled away from critical access points. The  incorrect installation  of the pan metal and z-bar does not require a complete re-roofing. This repair can be done by removing the tiles away from the stucco wall approximately three courses across from bottom to top and installing the pan metal and embedding roofing plastic and then the z-bar flashings, and finishing the job with re-installation of the tiles.
In the next image you are able to see that the roof is flat. This sort of tile installation on a flat roof will always produce leaks, not only damaging the roof but anything that it was intended to shelter. The reason for this problem occurring is that tile roofing is designed to be effective only on a roof with a pitch. The tiles are stacked one on top of the next in an escalating direction to direct the water downward and off of the home or building. When they are installed on a flat roof there are gaps that allow water to seep beneath the tiles causing roof leaks and damage. Additionally, the edge of the roof that meets the house is also missing the pan metal and z-bar flashing increasing the water flow into the house that should be directed away from it.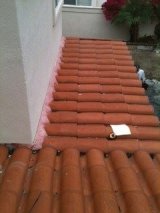 To repair the damage in the above image, we will remove the existing tiles, install a B.U.R. (built up roofing system) which is built up by lyers. This would include  any one of the following options; a hot tar appliciation, a torchdown applicaiton, a hydrostop coating, or a flintlastic self adhering system.
At Elite Roofing we will always do our best to give you the most affordable option for your needs.
/